Jury Selection through Predictioneering
Jury Games takes the predictioneering system and customizes a semi-automated predictioneering model for jury selection. This takes into account several psychological factors per potential juror: for example, achieving an accurate/correct verdict, advancing justice, being recognized as important or valuable by other jurors or the court, etc. The system is then customized in such a way that each juror, roughly, has a set of between 5 and 10 predominant value indexes. For each potential juror, each index is then scored and weighted based on juror questionnaires and/or responses provided during voir dire. Some of these value indexes can be pre-established through classic sciences like psychological profiling and local population sampling. Based on the case at bar, an overall optimum jury profile is then constructed as a target for the selection process.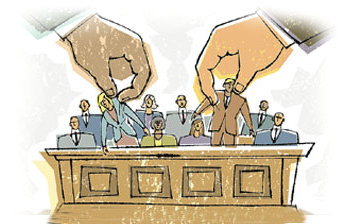 When the peremptory challenge process begins, a laptop screen reports, in real-time, a given juror's impact on the expected jury panel. Lawyers making selections then use this real-time report to provide analytical and objective influence (but not ultimate control) over their selections. The overall process for system operation is as follows: First, a lawyer or firm contracts with Jury Games to provide service. The first step in this process is to learn about the governing dynamics of the case and the lawyer or firm's preferred strategy for trial. Based on these factors, Jury Games produces a preferred jury target profile, with a key part of the profile creation being the definition and establishment of the various value indexes Jury Games deems important to include. Statistical sampling of the local area is then conducted to seed creation in a potential jury venire of these overall value indexes. At various points during this first phase, Jury Games checks-in with the legal team to verify and validate its conclusions as data becomes available.
Customized Predictioneering Models
Next, Jury Games builds a customized predictioneering model based on the outcomes of the previous steps. This model is seeded with value index data based on the local area sampling described above. The result is a system that can run the calculations for a likely jury panel based on local area profiles, counsel's trial strategy, and the potential jury's psychological makeup.
If counsel prefers, Jury Games can run an interim predictioneering model with an automatically generated jury panel based on local profiles, and then run simulations against the trial strategy. This could provide an early indication that alternate strategies might play better than others for certain juries.
Upon receipt of individual juror data just prior to the start of voir dire-whether this is simply the basic information provided to counsel in many trials, such as age, occupation, marital status, etc, or information gleaned from more extensive, case-specific questionnaires that the judge has deemed appropriate-counsel can then adjust their juror target profile and this information is then plugged into the predictioneering model.
Voir Dire Process
During voir dire itself, someone from Jury Games, optimally, sits with the legal team to translate jury candidate responses into specific, real time, candidate profile data changes.
The moment voir dire concludes, the system (running on the laptop) can be instantly converted to operational mode, running multiple simultaneous, asynchronous, real-time jury deliberation simulations. The results are then summarized as an overall numerical value for an individual juror candidate that ranges between 100 for a strong "accept" candidate and 0 for a strong "reject" candidate. This process allows the lawyer to understand how any given juror candidate might influence deliberations, providing counsel an invaluable and unparalleled way to engineer jury deliberations through jury selection.